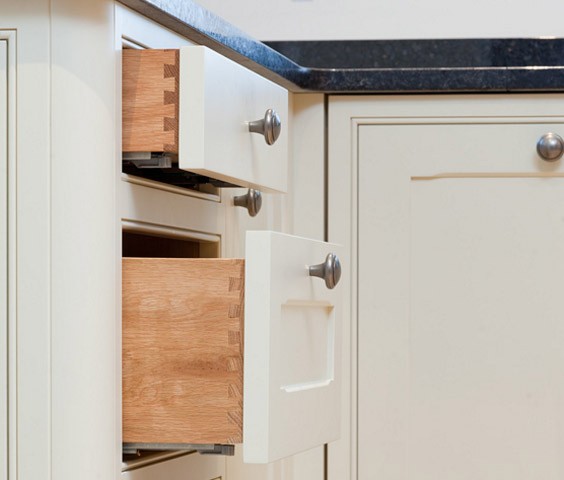 Probox is the trusted trade partner to many large and small kitchen and furniture manufacturers, here's 12 reasons to join them and outsource your quality dovetail drawer manufacturing to Probox.
Probox only use responsibility sourced high quality A grade solid timber to make their bespoke dovetail drawers.
When producing bespoke dovetail drawers, each side has 150mm single stave across any timber.
Drawers larger than 150mm have carefully selected joints to reach the required height, staves are not jointed in their length.
By outsourcing drawers to Probox, kitchen and furniture manufactures can save time on projects and focus their resources on other aspects of the project.
Dovetail machines that Probox use are CNC controlled providing variable pitch dovetails that allows total freedom for the drawer heights. Another advantage of the machinery at Probox is the ability to produce "traditional" dovetails with pins wider than the sockets. This makes the dovetail joints more hand crafted in appearance.
All Probox drawers are hand finished and sprayed with a 10% lacquer for long lasting durability.
Probox offer Birch Ply, Birch Ply dovetail drawers provide a 25% saving on solid timber drawers. Birch Ply is a popular choice of wood for bedroom and office furniture drawers. (BB grade).
Probox also offer a Classic Swift service. These are high quality fully assembled solid oak dovetail drawers that are in stock and ready to dispatch. A wide variety of sizes are catered for. This service is popular with kitchen designers that don't require a bespoke size and need the drawers quickly and also provides a cheaper option for people that just need a small number of drawers.
All Probox drawers are dispatched via our packing department. They are hand packed to protect them during transit, making sure that they arrive in perfect condition.
Probox also make a wide range of bespoke kitchen accessories, including handled trays, spice racks and cutlery inserts.
Probox supply premium drawer runners, including brands such as Blum and Grass. These brands offer a smooth action and options such as soft close and self-closing action.
Probox offer an engraving service. This can be used to apply branding to the side of the drawers, by engraving the kitchen manufactures logo, to personalise the kitchen with the clients name or more functional engraved labels.